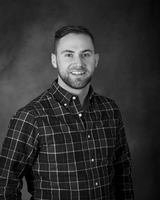 Jeff has been a member of the Flat Fee team since October, 2012. During this time, he has been responsible for the management of 17 properties, 76 units and approximately 250 tenants. This experience has been invaluable in developing his skills in evaluating properties and determining their worth and/or potential. Working with a variety of both renters and tradesmen has helped sharpen his abilities to hone in on a client's needs and desires. Jeff's eagerness to gain knowledge in all aspects of the housing field led him to obtain his real estate license.
Jeff is a transplanted Vermonter. He was raised in Wethersfield, CT but headed north and attended St. Michael's College, graduating in 2009. Following graduation, he went west and spent two years in Lake Tahoe, CA. He traveled to Italy, spent several months in Southeast Asia and also spent time in Martha's Vineyard.
Ultimately, however, the lure of the green mountains brought him back to Vermont. He now makes his home in Winooski. Jeff is also an assistant hockey coach at Burlington High School. Jeff is ready, willing and able to assist his clients in achieving their goal of making Vermont their home.
"It was seamless from the time I contacted Jeff right through the closing. He always made himself available to me to answer questions and I had a lot of them having never sold a house before. He definitely went above and beyond the needs of the seller. In my personal experience because of his other clients, my house actually sold before it even got listed. Jeff was very patient as I took a lot of time trying to prepare house for sale but was able to recommend it to a buyer because he knew what she was looking for and listened. I would recommend Flat Fee and Jeff to anyone. Was something I wouldn't hesitate to do again."
William Richardson, seller - SAVED $12,310 on the Sale
"I chose Jeff and Flat Fee to sell my primary residence in Richmond in April 2016 and a residential rental building in Burlington in July 2016 rather than doing FSBO's. Jeff did a good job handling both transactions, there was no drama involved and he had a positive can do attitude. Jeff did a good job managing competing offers on the rental property and was able to secure an above list final offer and consummate the closing. I was in the process of moving to Florida and was absent from VT for most of the time the transactions were being executed. Jeff managed through all the necessary paperwork and permit activity and worked with the buyers and attorneys in my absence to bring both transactions to timely and smooth closings. I would recommend Jeff and use him again in the future if I had an opportunity."
Paul Frascoia, seller - SAVED $37,727 on the Sales
"It was great working with you. We appreciate the job you did and just being an all around good guy and helping us get to know the area. Jill and the boys and I are getting settled in and enjoying the house and neighborhood. Thanks again. We look forward to keeping in touch and working together again when we move.

Tom and Jill Graham, Buyers"
I strongly recommend Jeff to anyone buying or selling a home. Jeff assisted our family in our sale of a townhouse and purchase of a house. Jeff was responsive to our questions, provided excellent advice and was truly a pleasure to work with in all aspects of our transactions. Selling one home and buying another home at same time is a daunting process. Jeff's experience, hustle and demeanor were very reassuring and made the process go much more smoothly. I recommend Jeff without reservation.
Peter and Jill McDougall, seller and buyer SAVED $12,309 on the Sales