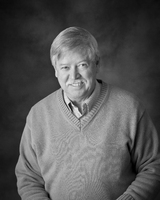 Licensed as a real estate agent since 1973, Gordon, in addition to providing guidance to buyers and sellers of real estate, has also been; property manager of approximately 4,000 units of subsidized
rental housing, network administrator for a multi-national organization, a national telephone service provider and to regional financial institutions. In addition to informational technology, he is knowledgeable in residential construction and development as well as volunteering as a member of his community's planning commission and zoning board of adjustment. With this breath of experience and knowledge he can provide the services needed to either acquire or market interests in realty. He also enjoys Vermont living and spending time with his family, grandchildren as well as training and exhibiting his Flat Coated Retrievers in AKC sanctioned dog shows.
"We started the process of purchasing our home in October of 2014 and settled on February 2, 2015.
We chose Flat Fee because this was the only company that we knew of that would refund us apart of commission paid to you.
This helped in that we could do some renovations.
We chose Gordon from your website because of his experience. We found out early that we made the right choice. Gordon was very knowledgeable and took time to find out what our needs were to help us find our home. He is very personable, patient and hardworking..Thank you Flat Fee and most important Gordon!!!"

-Andrea and Brian Cronmiller.